InfoBaltic (The Information Office for the Baltic Sea, Stockholm, Sweden):
The cyanobacteria bloom situation since mid-June has been very fluctuating. The blooms that developed up until the 21/6 were quickly mixed down into the water in an episode of windy weather. Until the 25/6 there were barely any visible cyanobacteria. After this they grew quickly to show signs of blooming through all of the proper Balic region; from outside of Ystad and into the Gulf of Finland. This then shrunk down to later again grow to similar extents. As of today (9/7), there are cyanobacteria visible from satellite pictures from Bornö Island up through the Gulf of Finland, in varying densities. Local reports have shown costal blooms especially in area between Nynäshamn and Västervik, Sweden. These fluxes of cyanobacteria blooms are due to weather conditions, which after the long high-pressure flux of May and June became a little more instable with colder temperatures, more cloud coverage and stronger winds occasionally.
Normally there are expeditions going out monthly during the summer months sampling the water to get a picture of species composition. However, this year it has been delayed so there is little information about the species of cyanobacteria present at the moment. The next expedition is planned to occur mid-July. The waters have been warm enough for species like Nodularia spumigena to grow, especially in the southern parts of the basin. This is of great interest to find out since this is the species which is known to create problems for humans and animals since it can be toxic.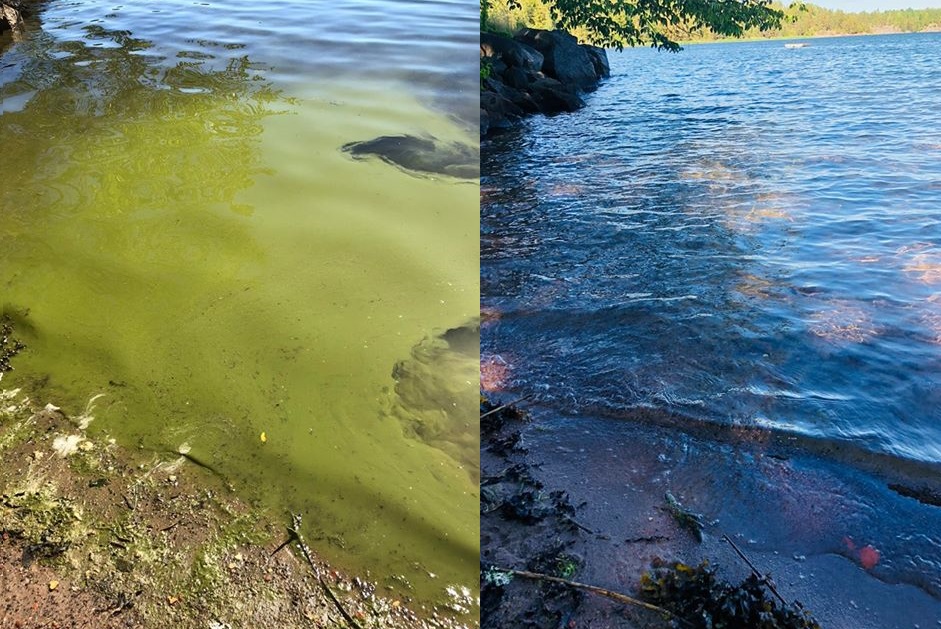 Illustration of how quickly the accumulations of cyanobacteria can disappear over-night. Pictures taken from one beach in Dagsbo, Sweden. Photo: Louise Lundberg.